"Your neighborhood bar in the Loop"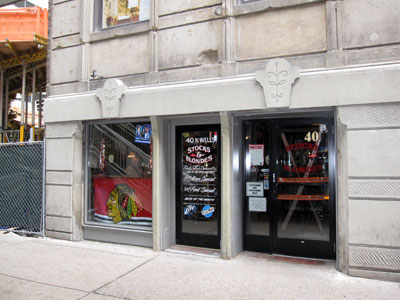 It's 5pm or, if you're a trader, noon and you're starting to get The Thirst. You survey your co-workers and call-email-text a few friends to determine who's "game on" for cocktails after work. But where to go? When you're up for cheap drinks and staggering distance to public transportation, the answer is simple: Stocks & Blondes. You love S&M; with a quarter turn counter-clockwise, it's S&B.
Located at the base of a staircase leading down from the Washington & Wells "L" stop, Stocks & Blondes is found on the west side of Wells, just north of Washington. The building housing it is called Washington Block, built just after the Great Chicago Fire of 1871 and declared a historical landmark in 1997.
Today, a plate glass door that also illustrates the Beer of the Month opens to reveal a smallish tavern with a couple of cocktail tables and a worn wooden bar that runs the length of the southern wall. Here you'll find 14 beers on tap, dispensed from an ancient brass fixture, possibly crafted around the time the back bar was constructed, possibly from the era and land of Dickens. A bronze tag set in the bar next to the taps curiously says "Neighbor." The finest cedar wood paneling, red clay tile flooring, black-painted drop ceiling, and Blackhawks flag in the front window overlooking Wells rounds out the decor, along with an ATM. When it comes time to check the plumbing, you'll find a pair of one-seater cans just beyond the bar through the western wall.

For the peckish, an old-school menu of deep-fried pub grub and burgers are served in red plastic baskets and best enjoyed at a smattering of cocktail tables in the slightly more spacious backroom (if you arrive early). Upon eating the crab cake sandwich, I immediately felt sorrow for not ordering the pizza puff [tear].
"For some reason, the name 'Stocks and Blondes' conjured up in my head the image of a relatively swanky establishment, with a bunch of wall street style young professionals buying expensive drinks for their super hot blonde girlfriends/escorts… this bar is more like a hole in the wall with blue collar workers sipping on cheap beers and walls and tables that are falling apart."
In a place called Stocks & Blondes, who will you encounter here? Suits, City of Chicago employees, bike messengers, and those that love them. If a blonde woman actually wanders in, it's because she was expecting Whiskey Blue and is too polite to run out the door screaming. While there's plenty a stool to enjoy Erin Burnett on CNBC via a few flatpanel TVs, expect elbow-to-elbow after 4pm. Considering that most are aiming to tie one on before heading home to their wonderful offspring, the place is often deserted after 7pm.
"My friend and I went looking for a dive bar when he was in town on business from San Francisco. We found it! He tried to put the bill on his expense account but it got rejected because of the name! The company was convinced it was a strip club!"
Stocks & Blondes is one of the best dive bars in the Loop, right up there with Exchequer Pub, Monk's Pub and Cal's Liquors, but the only one designated a Certified Purveyor of the Miller High Life. For more information, you'll have to call as they don't have a website. Until next time, who's Dick Hertz?